Oppo R15 and R15 Dream Mirror
The Chinese company Oppo introduced two new smartphones, R15 and R15 Dream Mirror . The most noticeable in them was the cutout at the top of the screen, typical for the iPhone X, announced in September 2017. According to rumors, this design promises to become very popular in 2018 – it is attributed to such future models as Chinese OnePlus 6 , Vivo V9 , Huawei P20 (recently announced version P20 Lite with the same cutout), as well as South Korean LG G7 . However, judging by the leaks, all smartphones with a top notch lower frame will be much wider than that of the iPhone X. As for the Oppo R15 and R15 Dream Mirror, they received the following characteristics: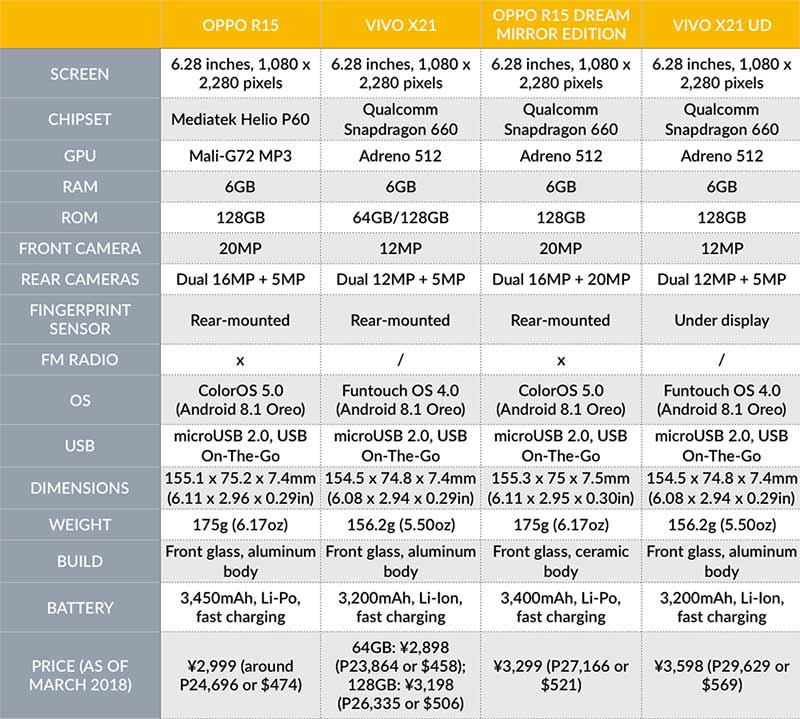 As you can see from the table, the more expensive Oppo R15 Dream Mirror differs from the standard version with the second module of the main camera (20 mps ƒ / 1.7 vs 5 mps ƒ / 2.2), slightly smaller battery capacity, and most importantly – another processor. In the standard installed at the end of last month MediaTek processor Helio P60 . Its CPU is harnessed by four Cortex-A73 cores and four Cortex-A53 energy-efficient cores with a frequency of up to 2.0 GHz. This is somewhat outdated, but quite a good configuration – what can not be said about the GPU processor, Mali G72 MP3. The last digit indicates the number of computational units – for comparison, the Exynos 9810 has 6x more (Mali G72 MP18). The latter in the graphical benchmark GFXBench Manhattan 3.1 shows 47 fps (off-screen), so the nominal Helio P60 will give out about 8 fps.
In its turn at Snapdragon 660, already told, the graphics performance corresponds to the level of top-end smartphones of 2015 with the Snapdragon 810 processor. In the above graphic benchmark, GFXBench Manhattan 3.1 (off-screen) Snapdragon 810 (according to Nexus 6P ) and Snapdragon 660 (according to Oppo R11 ) are gaining 15 fps. For comparison, the most productive among mobile processors, Snapdragon 845 – 61 fps.
In China, Oppo R15 and Oppo R15 Dream Mirror go on sale on April 1.